Microtron Center

MICROTRON CENTRE
DEPARTMENT OF STUDIES IN PHYSICS
MANGALORE UNIVERSITY, MANGALAGANGOTRI – 574 199
Head, Microtron Centre:   Dr Ganesh Sanjeev
                                                Professor of Physics
Laboratory Technician:    Mr Dayananda Naik B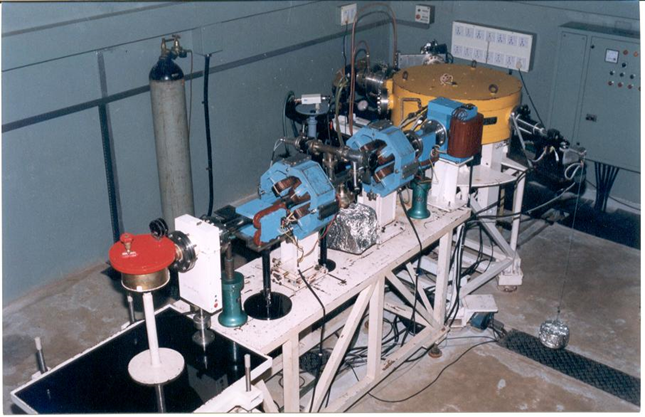 DAE Centre for Excellence in Radiation and Radiological Sciences
DST National Facility
UGC Centre with Potential for Excellence in Particular Area
8 MeV Microtron
The Microtron facility was set up by Mangalore University in the year 1995 in collaboration with the Raja Ramanna Centre for Advanced Technology (RRCAT) Indore and Bhabha Atomic Research Centre (BARC) Mumbai to strengthen ongoing research programs in several important areas of radiation physics and allied sciences.  The Microtron Centre with Microtron accelerator facility was established as a Regional Centre for Electron Accelerators under the Department of Studies in Physics.  This first of its kind facility in the country provides energetic electrons of 8 MeV, intense bremsstrahlung photons of peak energy corresponding to the energy of the electrons and neutrons of reasonably high flux.  The facility with its versatile nature has been playing a pivotal role in promoting collaborative research programs with the participation of various science departments of the university, sister universities, neighboring institutions of the region and national laboratories.
Salient Features of Microtron
Electron emitter                                  LaB6 single crystal
Beam energy                                       8 MeV
Pulse current                                       50 mA (max)
No. of electron orbits                          14 
Beam size (at beam exit point)            3 mm x 5 mm
Pulse duration                                                 2.5 ms
Pulse repetition rate                            250 Hz (max)
Average beam power                          250 W (max)
Magnetic field strength                       1285 G
Magnetron power                                2 MW
Operation frequency                           2998 MHz
The Board of Research in Nuclear Sciences (BRNS), Department of Atomic Energy, Government of India has sanctioned 119 research projects so far to Microtron Users to strengthen microtron based research activities under a triangular Memorandum of Understanding signed by BRNS, RRCAT Indore and Mangalore University.  The Department of Atomic Energy has recognized the Microtron Centre as a Centre for Excellence in Radiation Physics and Radiological Sciences.  The Department of Science and Technology has helped the Centre to develop as a national facility by sponsoring a major research project to set up microtron based neutron converter facility.
For further details contact:
                                               Head, Microtron Centre
                                               Department of Studies in Physics
                                               Mangalore University, Mangalagangotri - 574 199
                                               DK, Karnataka, India.
                                               Email: microtron@mangaloreuniversity.ac.in  / microrton@rediffmail.com
                                               Phone: +91 824 2287274