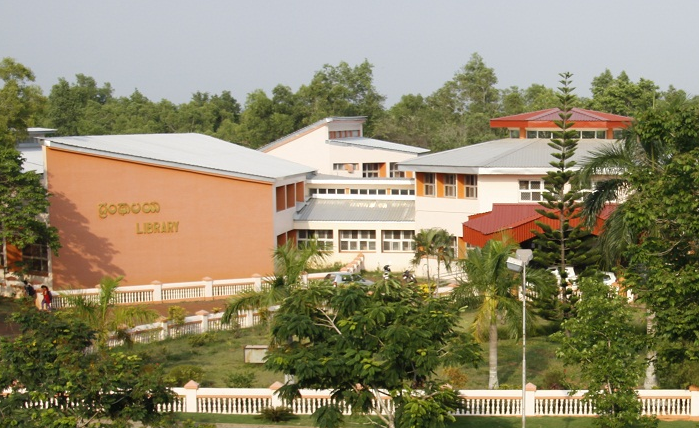 Mangalore University Library Building
The Mangalore University Library was established in 1980. It moved to an independent building in 1993 which is planned for 9000sq. meters area. Presently, around 6250 sq. meters area is being used to accommodate the Browsing, Circulation, Periodicals, Reference, Stack, Textbooks and Language Sections. The building also houses an Office, Acquisition Section, Technical Section, Orientation Hall, Librarian's room and Cyber lab  .
At present the library has in its Stock 2,05,320 books, 23,085 back volumes apart from Reports, Theses etc., covering a wide variety of subjects. It has a rich collection of about 293 research and general interest journals on a wide range of subjects. It has access to over 8500+ Journals in Full text in e-form from 25 UGC-INFONET databases and 45000+ Journals full text information from J-Gate database
A separate collection of NBHM, USIS , Pavanje Chair photo gallery and   Shastri Indo- Canadian Institute's Publications are displayed in separate corners are displayed in separate corners at Stack and Periodical Sections. These publications have been useful to Faculty Members, Research Scholars, PG Students and other users   . A collection of reprints and preprints on popular subjects is also being built up. Display panels in both the gangways furnish information on various current information services  like Admissions, Appointments, Book Reviews, Do You Know, Faculty Publications, Fellowships, Orientation and Refresher Course details and Today's News 
Working Hours
Details

Days

Timings

Library Hours

Working Days

8:30 AM to 8:00 PM

Sundays, Second Saturdays, Vacations and General Holidays

10:00 AM to 5:30 PM

Circulation Hours

Working Days

9:00 AM to 5:30 PM

During Vacations

10:30 AM to 5:00 PM
Membership Details and Borrowing Privileges
Faculty Members, Research Scholars, Students of Post-Graduate Departments and Administrative Staff of the university are eligible to become members of the library. Membership is also available to the outside members and organizations like Universities, Colleges, Research Institutes and individuals. 
Each member is issued with a membership card and borrowers tickets as per their eligibility given below
| | |
| --- | --- |
| | 25 |
| Associate Professor | 25 |
| Assistant Professor | 15 |
| Research Scholar (Regular) | 10 |
| Research Scholar (External) | 02 |
| Post Graduate Student | 03 |
| Post Graduate Student (SC & ST) | 03 + 03 |
| Guest Faculty | 05 |
| Office Staff | 02 |
Outside Members
(A) Individual
On payment of Rs 1,000/-p.a., any individual can become a library member of the Library and he/she will be provided with the library membership card and such members will be permitted to use the library during working hours except borrowing facilities.
(B) Institutional
The Institutional membership is Rs 20,000/-p.a. This institutional membership permits any five members of the organization to the use the library during working hours at a time and except borrowing facilities.
For payment outside members
Get a Bank DD for Rs 1000/- for Individual membership and  Rs 20,000/- for Institutional  membership  on University Librarian, Mangalore university  Library, payable at Mangalagangothri
Facilities and Infrastructure
·         Audio-visual facility
·         Computer Aided Retrieval
·         Reprographic Service (Xerox)
·         Web OPAC
·         UGC-INFONET Digital Library consortium
·         Remote Access
·         Lending
·         Book Reservation
·         Book Renewal
·         Inter Library Loan
·         Paper Clippings
·         Reader's Guidance
·         Reference
·         Referral
·         Reprints
·         E-resources
Overdue charges will be collected from the defaulters who is returning the book after the due date.
| | |
| --- | --- |
| | Rates of Overdue charges |
| After Due Date | 1 Rupee per day |
The library is now computerized with an integrated system connected to the campus network, providing internet services to the university community. The reference collection of the library is continuously updated. Library database has been created using Libsys4 6th version and it works On web OPAC. it can be accessed through internet address http://218.248.47.185:8080/jopacv11/html/ 
·         Borrower's tickets are not transferable.
·         Duplicate borrower's ticket / membership ticket / No Due Certificate will be issued on the payment of Rs.10/-.
·         Readers are required to deposit their bags / belongings at the property counter before entering the library.
·         Using mobile phones inside the library is strictly prohibited.
·         Necessary action will be taken by the librarian against the users who are found to be misusing the service facilities, book collection etc.
·         No outside / personal books are allowed in the library for reading purposes.
·         The Librarian may recall any book at any time if required.
·         Silence should be maintained in the library.
·         If a book is lost, the librarian has the power to decide whether the book has to be replaced or a fine is to be paid by the borrower. The fine will be charged up to six times the cost of the book's current value, in addition to handling charges.
Professionals Working in the Library